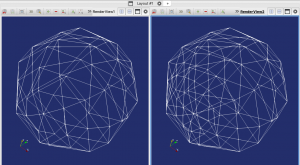 Here is a video to show how to change the density of model by MeshMixer, then compare the new model and old model in ParaView. The general steps are in the following part.
Import model in Meshmixer.
Enter 'w': show wireframe of 3D model.
Select area to increase density.
Remesh: change density.
Export the 3D model as an STL file to compare in ParaView.
Launch ParaView.
Create two render view in ParaView.
Link camera to compare the two models.
Watch the number of cells to find the differences.
youtube

bilibili

STL files:
sphere.stl
sphere2.stl