Here is a real story introduced by American actress Kiernan Shipka, The House That Jane Built. You can find it at https://storylineonline.net/books/house-that-jane-built/
这是一则由美国女演员Kiernan Shipka介绍的真实故事,《简建造的赫尔之家》。你可以在这里找到原始资料:https://storylineonline.net/books/house-that-jane-built/
A house stands on a busy street. Its doors are opened wide.
To all who come, it bids good cheer.
To some, it says, abide.
In 1889, a wealthy young woman named Jane Adams moved into a lovely, elegant house in Chicago, Illinois.
But instead of moving into a lovely, elegant neighborhood, she picked a house that was smack in the middle of one of the filthiest, poorest parts of town.
Why would a wealthy young woman do this when she could have lived anywhere?
Jane was just 6 years old when she went on a trip with her father and noticed that not everyone lived like her family did.
She vowed that one day she would live "right in the midst of horrid little houses" and find a way to fix the world.
一所房子坐落在一条繁忙的街道上。它的大门敞开着。
它对所有来的人都表示欢迎。
对一些人来说,它的意思是,坚守。
1889年,一位名叫简·亚当斯的富有的年轻女子搬进了伊利诺斯州芝加哥市一所可爱而优雅的房子。
但她没有搬到一个可爱、优雅的社区,而是选了一个位于镇上最脏、最穷的地方之一的房子。
一个有钱的年轻女人为什么要这样做?她原本可以选择住在任何地方。
简6岁的时候和父亲去旅行,她注意到并不是每个人都像她的家人那样生活。
她发誓,有一天她会在可怕的小房子中间,找到一种方法来修复世界。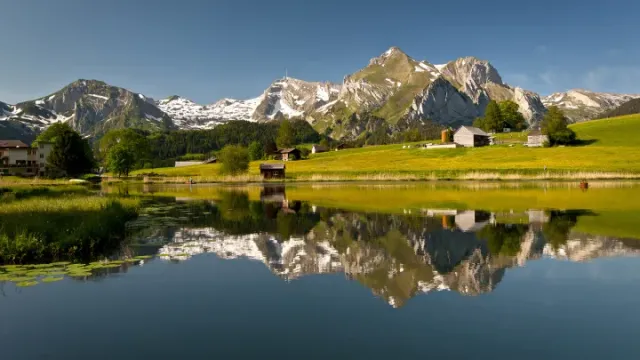 Jane was a strong soul from the start, and she was brave.
When she and her stepbrother George were young, they would sneak away at night to explore the nearby caves.
Once, Jane lowered George over a cliff on a rope to spy on an owl in its nest.
Jane was smart.
She read and read from her father's book collection, which doubled as the town library.
Most girls did not go to college then, but Jane's father believed women should be educated.
She went to Rockford Female Seminary and graduated at the top of her class.
But when school was over, she wasn't sure what to do with her life.
That same summer, her father died.
Jane was lost.
简从一开始就很坚强,她很勇敢。
当她和同父异母的弟弟乔治还小的时候,他们会在晚上偷偷溜出去探索附近的洞穴。
有一次,简用绳子把乔治从悬崖上放下来,去窥探一只在巢里的猫头鹰。
简很聪明。
她大量阅读父亲的藏书,这些藏书是镇上图书馆的两倍。
当时大多数女孩都不上大学,但简的父亲认为女性应该接受教育。
她进入罗克福德女子神学院,并以全班第一名的成绩毕业。
但当离开学校后,她不确定她的生活该做什么。
同年夏天,她的父亲去世了。
简陷入低谷。
About two years later, she and her friends traveled to Europe.
They went to the theater, the opera, and many beautiful places.
But then Jane saw something in London she couldn't forget.
People in ragged clothes with outstretched hands, begging a cart vendor to buy his leftover rotten fruits and vegetables that hadn't sold at the market.
The spoiled food was all they could afford.
What could she do to help?
Long after her trip was over, the question stuck in her mind.
She remembered how she felt when she was six.
Jane traveled back to London to learn about a place she had heard was helping the poor in a brand new way.
At Toynbee Hall, the idea was to have rich and poor people live together in the same community and learn from each other.
大约两年后,她和朋友们去欧洲旅行。
他们去了剧院、歌剧和许多美丽的地方。
但后来简在伦敦看到了一些她无法忘记的东西。
人们穿着破烂的衣服,伸出双手,乞求一个推车小贩,想要买下他在市场上没有卖掉的剩下的腐烂水果和蔬菜。
他们只吃得起变质的食物。
她能帮什么忙呢?
旅行结束后很久,这个问题仍在她脑海中挥之不去。
她记得自己六岁时的感觉。
简回到伦敦去了解一个地方,她听说那里正在用一种全新的方式帮助穷人。
在汤因比馆(一个英国伦敦东部最贫穷地区的慈善场所,是现代社区服务中心的前身),那里的理念是让富人和穷人住在同一个社区,互相学习。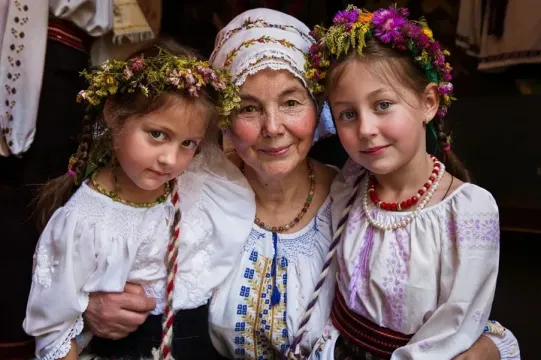 Instead of simply serving soup, for example, people could take cooking classes.
Other skills were taught as well.
Toynbee Hall was the first settlement house.
It was called a settlement house because the well-off people who worked there during the day didn't go back to their own homes at night.
Instead, they settled in and lived at Toynbee Hall, right in the same neighborhood as the needy.
Jane now knew what to do.
She told her friend Ellen Gates Starr about her plan to build a settlement house in Chicago.
It was as if a racehorse had burst out of the gate, free at last to pour every ounce of energy into running.
There was a glittery side to Chicago, with its mansions, fancy shops, and sparkling lakefront.
But there was a gritty side, too.
例如,人们可以参加烹饪课程,而不是简单地提供餐饮服务。
其他技能也被传授。
汤因比馆是第一个定居屋。
它被称为定居屋,因为白天在那里工作的有钱人晚上就不回家了。
相反,他们定居下来,住在汤因比馆,就在穷人的同一个社区。
简现在知道该怎么办了。
她告诉她的朋友艾伦·盖茨·斯塔尔,她计划在芝加哥建造一个定居点。
这就像一匹赛马冲出大门,终于自由地把每一盎司的能量都投入到奔跑中。
芝加哥有光鲜亮丽的一面,有豪宅、高档商店和波光粼粼的湖畔。
但这座城市也有坚强的一面。
One million people lived in Chicago in 1889.
Most were immigrants, people who came from other countries.
They came for a better life, but they didn't speak English.
That made it hard to find good jobs.
Many needed help.
Jane found the perfect house.
It had big rooms with high ceilings and marble fireplaces.
And it was in one of the worst neighborhoods in the city.
Garbage lay rotting in the streets, piled high.
1889年芝加哥有100万人居住。
大多数是移民,来自其他国家的人。
他们来这里是为了更好的生活,但他们不会说英语。
这使得他们很难找到好工作。
许多人需要帮助。
简找到了一所完美的房子。
房间很大,天花板很高,还有大理石壁炉。
而且是在这个城市最糟糕的社区之一。
垃圾在街上腐烂,堆得高高的。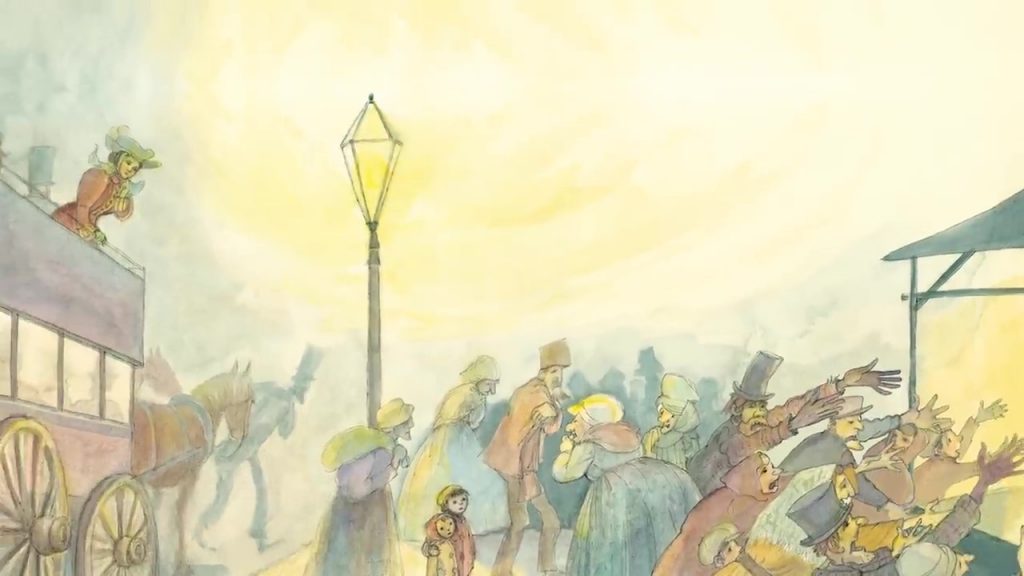 Large families were crammed into tiny, ramshackle houses with no running water.
The smell from back-lot outhouses hung in the air.
Rough boys ran the streets, stirring up trouble because they had nothing to do.
The house had belonged to Charles J. Hull, and he had left it to a wealthy cousin named Helen Culver.
At first, Jane paid rent, but after she told Helen what she had in mind, Helen gave her the house for free.
And thanks, Jane named it Hull House.
Jane moved in on September 18, 1889.
The very first night, she was so busy and excited that she forgot to lock a side door before going to sleep.
大家庭挤在没有自来水的摇摇欲坠的小房子里。
户外厕所的气味弥漫在空气中。
粗野的男孩在街上跑来跑去,因为他们无事可做,就挑起事端。
这所房子原属于查尔斯·j·赫尔,他把它留给了一个富有的表妹海伦·卡尔弗。
起初,简付了房租,但在她告诉海伦她的想法后,海伦把房子送给了她。
为了表达感激之情,简把它命名为赫尔之家。
简于1889年9月18日搬进来。
第一天晚上,她太忙太兴奋了,以至于睡觉前忘了锁侧门。
But no one broke in.
She decided to leave Hull House unlocked from then on so people would know they could come in at any time.
People who didn't have enough to eat, or had no shoes on their feet, or had just lost a job began to find their way to Hull House.
Of course, it wasn't always peaceful.
Once a couple of boys threw rocks at the house and broke a window.
Instead of getting upset, Jane took it as a sign to give the neighborhood kids something to do.
She had her own way of looking at things.
Another time, Jane discovered a man in the house looking for something to steal.
但是没有人闯入。
她决定从那时起不锁门,这样人们就知道他们可以随时进来。
那些没有足够的食物,或者没有鞋子穿,或者刚刚失业的人们开始寻找去赫尔之家的路。
当然,它并不总是和平的。
有一次,几个男孩向房子扔石头,打碎了一扇窗户。
简非但没有生气,反而认为这是给邻居的孩子们找点事做的征兆。
她有自己看待事物的方式。
还有一次,简发现一个男人在房子里找东西偷。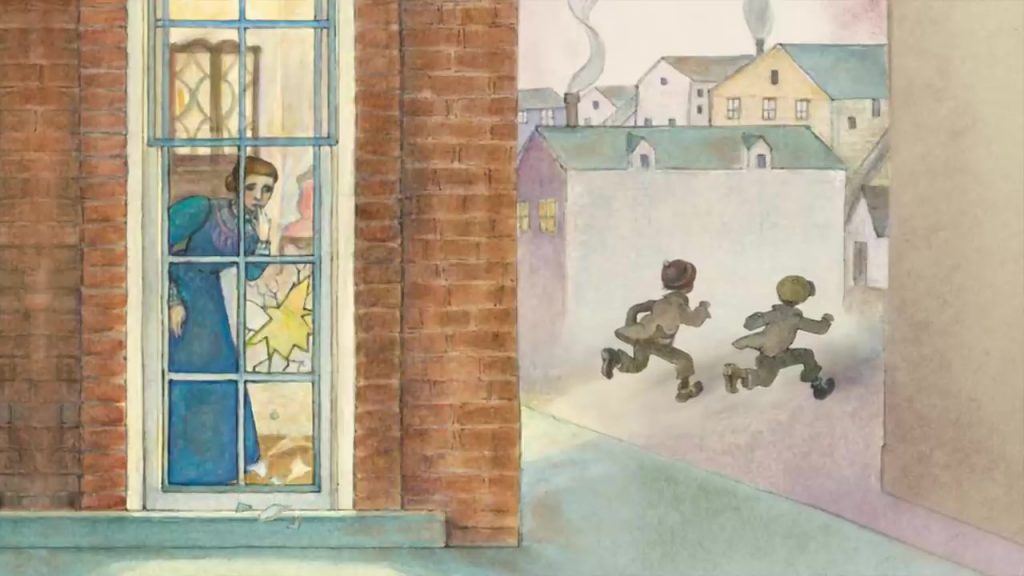 He tried to jump out a window to escape, but she showed him the door so he wouldn't get hurt.
When he broke in a second time, she asked him why.
He said he was out of work and he had no money.
Jane told him to report back the next morning.
When he did, she gave him a job.
Jane spent her own money running Hull House and asked other well-off people to donate too.
She did not want to be paid for working there.
Even when people gave her gifts, she gave them away.
Her friends teased Jane about this.
他试图从窗户跳下去逃跑,但她给他指了门,这样他就不会受伤。
当他第二次闯入时,她问他为什么这么干。
他说他失业了,也没有钱。
简让他第二天早上再来报到。
后来,她给了他一份工作。
简用自己的钱经营赫尔之家,并邀请其他富裕的人也捐款。
她不想因为在那里工作而得到报酬。
即使别人送她礼物,她也会送掉。
简的朋友们拿这件事取笑她。
One friend gave her new underwear with her initials just so Jane couldn't pass them on.
But she did.
Any problem, Jane discovered.
She tackled.
No running water in the house meant no easy way to bathe.
This led to sickness, so Jane put in a public bath.
People flocked to it, which helped her convince city officials they needed to build more public baths.
No safe place for children to play?
Jane talked a wealthy man into giving her the lot he owned near Hull House.
Workmen tore down the shabby buildings and turned the lot into a playground.
It was the first one in Chicago.
一位朋友送给她印有她名字首字母的新内衣,朋友认为这样简就不能把它们传给别人了。
但她做了。
任何问题,简发现了。
她解决。
房子里没有自来水意味着洗澡不容易。
这会导致疾病,所以简在公共浴室洗澡。
人们蜂拥而至,这帮助她说服了市政官员,他们需要建造更多的公共浴室。
没有安全的地方让孩子们玩耍?
简说服一个富人把他在赫尔之家附近的地皮给了她。
工人们拆除了破旧的建筑,把这块地变成了游乐场。
这是芝加哥的第一家。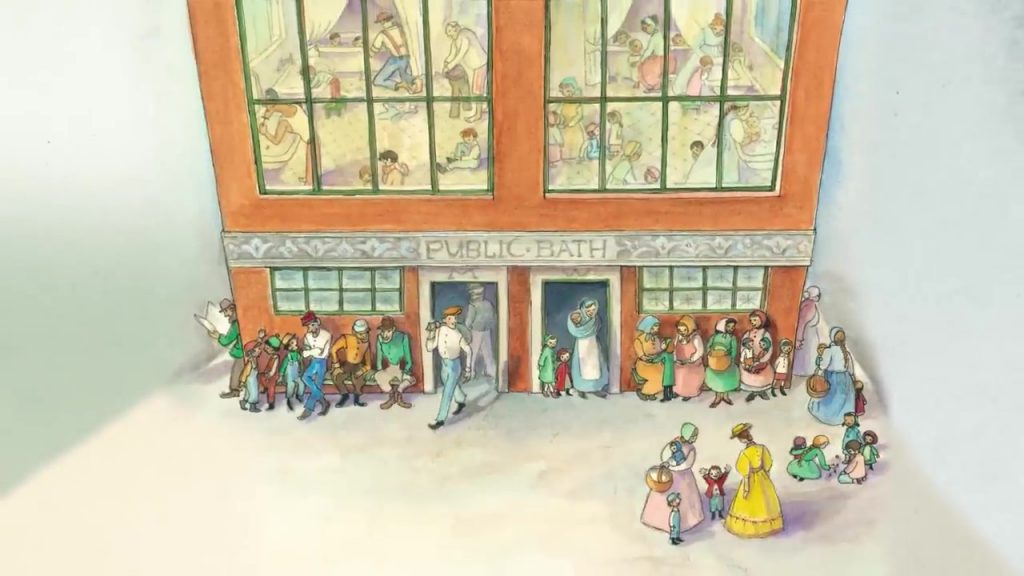 Little kids home alone because their parents had to work 14 hours a day?
Jane started a morning kindergarten and after-school clubs.
She also set up afternoon classes for older kids who had to go to work during the school day.
Jane did not do all this alone.
Ellen Gates Starr was her partner from the start.
Many other smart, generous people moved into Hull House and helped.
They taught literature, art, English, math, science, and cooking.
Soon there was not just one building, but two, then three, and four, and more.
By 1907, Hull House had grown into 13 buildings, including a gymnasium, coffee house, theater, music school, community kitchen, and an art gallery.
By the early 1920s, more than 9,000 people a week visited Hull House.
小孩子独自在家因为他们的父母一天要工作14个小时?
简开办了早教和课后俱乐部。
她还为上学期间要去上班的大孩子们安排了下午的课程。
简不是一个人做这些事的。
艾伦·盖茨·斯塔尔从一开始就是她的搭档。
还有许多聪明、慷慨的人搬进了赫尔之家,提供帮助。
他们教文学、艺术、英语、数学、科学和烹饪。
很快,这里就不只有一栋建筑,而是两栋、三栋、四栋,还有更多。
到1907年,赫尔之家已经发展成为13座建筑,包括体育馆、咖啡馆、剧院、音乐学校、社区厨房和一个艺术画廊。
到20世纪20年代初,每周有9000多人参观赫尔之家。
The house that Jane built brought all kinds of people together and helped those in need.
It changed a bad neighborhood into a great and strong community.
Hull House transformed the lives of all who stepped inside.
Today, every community center in America in large part has Jane Addams to thank.
With all that she did, both inside and outside the house that Jane built, her childhood wish to help fix the world came true.
简建造的房子把各种各样的人聚集在一起,帮助那些需要帮助的人。
它把一个糟糕的社区变成了一个伟大而强大的社区。
赫尔之家改变了所有人的生活。
今天,美国的每个社区中心在很大程度上都要感谢简·亚当斯。
她所做的一切,无论是在她建造的房子里还是在房子外,她儿时想要帮助世界改变的愿望实现了。